David Johnson
Dave plays the role of rebel, challenger, industry historian, investor and company evaluator to push audiences forward.
Dave is an impassioned advocate pushing to change the U.S. health system to serve customers better.
Are you looking for a transformative keynote speaker for healthcare economics, strategy, innovation and capital formation?
Would you like to ignite your audience with valuable information to transform American healthcare?
Do you need to equip your audience with actionable takeaways to produce a leading event?
What People Say
"David Johnson is a healthcare thought leader, author, speaker, strategic advisor to organizations busting the status-quo to reform our healthcare system. He applies his 25+ years of investment banking in healthcare to push industry change through incumbent and upstart organizations. Johnson identifies ways the industry must change so Americans receive better care and health. Johnson's journalism degree, African Peace Corp service, and master's from Harvard's Kennedy School of Public Policy provides a unique perspective on the economics and purpose of this industry."
– Attendee
"Johnson's independent voice calls out what's broken in the U.S. health system and how that's damaging our health and economy. More importantly, he lays out a path to the healthcare system Americans deserve, one that's focused on customers, people who want the right care at the right time and the right place at the right price. A system that delivers better outcomes."
– Attendee
Don't risk your audience leaving disappointed and disengaged
Dave's presentations shape understanding, shift mindsets and propels fundamental transformation. Recent audiences include:
Health system boards, executives & clinicians
Industry investors
Industry associations
Specialty medical providers
Healthcare tech companies & start-ups
Non-profit healthcare organizations
Business groups, including Florida's Top 100 Council
Make your next event the healthcare event the most memorable of the year.
Hire Dave for your next event
Step 2
Coordinate
Our team will reach out and coordinate an initial conversation.
Step 3
Schedule
If Dave is available for your event, our team will coordinate a call to schedule the details and logistics.
Step 4
Inspiration
Your audience will be engaged, enlightened and equipped to transform the industry.
Bring your stakeholders inspiration and provocation to experience David Johnson's dynamic presentations.
Here are some of Dave's
Popular Speech Topics
Today's Customer Revolution in Healthcare: Delivering Kinder, Smarter, Affordable Care for All
Johnson outlines how innovative organizations fight through industry conditions, understand the forces pushing the customer forward, and lead the charge toward revolutionary healthcare. Dave lays out a path for the healthcare industry and audiences to create revolutionary change in their organizations.
Liberated Data Saves Lives®
Data capabilities and the industry's attitude toward data are necessary forces in today's healthcare transformation. Johnson believes that to change the focus to customers, we must tear down the silos in the current system and liberate data, for better care and customer decision making. Liberating data in healthcare will empower customers, improve outcomes, enhance the patient experience and clinician workflow.
If your organization needs advice to identify and develop strategies to support liberated data into your services, partnerships or operations, please email info@4sighthealth.com to book a consultation.
Eve of Disruption
American healthcare is experiencing an "eve of disruption" of unprecedented scale and will never be the same. Between December 3rd and 7th, 2017, four blockbuster transaction announcements (Aetna-CVS, Advocate-Aurora, Dignity-CHI, UnitedHealth-DaVita) rocked the healthcare industry. Others followed in rapid fashion. Major healthcare payers, providers and retailers signaled their intention to reconfigure business models to compete effectively in the post-reform marketplace.
Subscribe to 4sight Friday
Join 10k+ healthcare executives reading our weekly newsletter.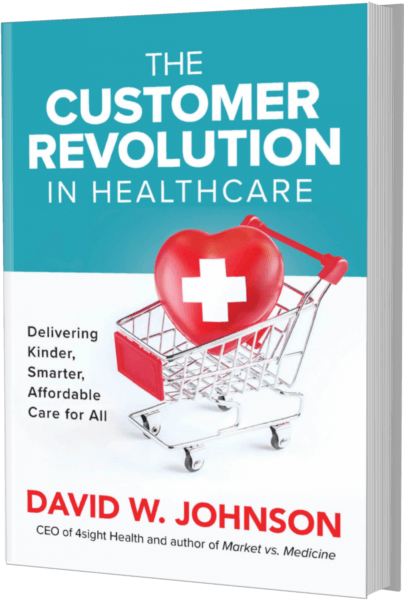 Revolutionary Times Call
for Revolutionary Ideas
Delivering Kinder, Smarter, Affordable Care for All