This Is a Story About Where Healthcare Regulations Come From – Burda on Healthcare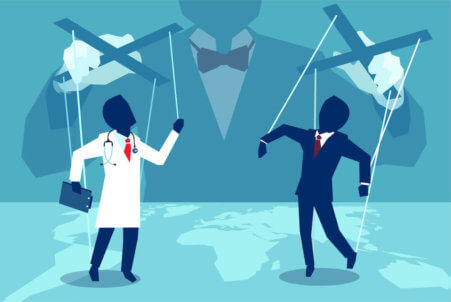 Healthcare is one of the most if not the most regulated industry in the U.S. While its businesses like to blame overzealous bureaucrats for all the red tape, the current debate over surprise medical bills shows that in most cases businesses have only themselves to blame for all the rules that they have to follow.
You probably can trace the story of how surprise medical bills became the target of regulators back to the first time someone with a phony medical degree on their wall gave a patient a handwritten bill for using a candle in a cup to treat their consumption.
But for the purposes of this 4sight Health column, our story begins on Oct. 16, 2017. That's when Sarah Kliff, a reporter at Vox, published her story "The problem is the prices" and announced the launch of a project to collect and report alarmingly high hospital bills from patients, especially for emergency room visits.
Since then, it's been all downhill, especially if you're a hospital or health system CFO. Here's how we got to where we are today.
Whew! I hope you're still with me. And I apologize for not including or missing any important events in this 19-month saga. I don't know how it ends. But, my best guess is, the feds will punt and a handful of states will pass legislation, creating a crazy quilt of rules and regulations that somehow will favor of the status quo and confuse patients while driving up healthcare costs. Never bet against the house.
Now, the important part and the premise of this column are this:
You can find and replace the phrase "surprise medical bills" in this tale with words like "hospital-acquired conditions" or "medical-loss ratio" or "Physician Payments Sunshine Act" or "pharmacist gag clauses" or "information blocking" or "drug diversion" and the story really doesn't change all that much.
History teaches us that regulation is born of bad behavior by those who are then subject to regulation. It would follow then that if businesses like hospitals, health systems, physician practices, health insurance companies, drug manufacturers, health IT vendors, medical device companies, suppliers and distributors want less government red tape, they should stop doing things that harm their customers.
Being patient-centered or patient-centric or putting patients first are all clichés at this point. Kind of like athletes saying that they're just taking it one game at a time at the end of a season with a playoff berth hanging in the balance. But if healthcare businesses really did put patients first or at the center of their business model, there would be less need for regulatory oversight. Try it and see what happens.
Author
David Burda is a columnist for 4sight Health and news editor of 4sight Friday, our weekly newsletter. Follow Burda on Twitter @DavidRBurda and on LinkedIn. Read his bio here