A Concrete Description Of The Cloud
In the simplest terms, cloud computing means storing data and software applications on the Internet, in secure files, then accessing that data and programs over the Internet rather than from physical hardware.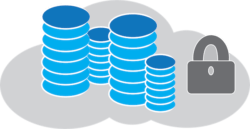 For a health system, moving into the cloud frees the system from owning and managing physical hardware and networking components that today physically reside in a health systems data center. The cloud also allows for freedom from paying employees or outsourced professionals to manage that hardware.
Benefits of moving into the cloud:
Current applications operate no differently when the data is in the cloud versus when it is in a private / managed data center. In fact, access to your data is faster, easier, more convenient and often more secure when your approved partners want to run analytic tools or develop new apps and capabilities for your organization.

Health systems don't have to invest in the hardware and the people who manage the hardware. Instead they take advantage of providers that specialize in this area to optimize computer efficiency and scalability at more favorable economic terms.

The cloud is exceptional at scaling up and down, so you only use the infrastructure your applications require as your data and computer requirements change. That compares to an enterprise system that was specified and purchased to meet estimated peak usage, that now sits in your physical data center. A majority of the time, the expensive hardware is underutilized resulting in compute and cost waste.

Your data will likely be more secure in the cloud since it is hosted and managed with the same security standards and best practices as the parent company (ie. Google, Amazon, Microsoft).

Development languages used with data stored in the cloud are the most current, most advanced, and open source. It's not technology owned by a corporation that you need to license.
The security, performance, accessibility and cost-savings make moving to a cloud platform the transformation needed for healthcare data.