November 30, 2021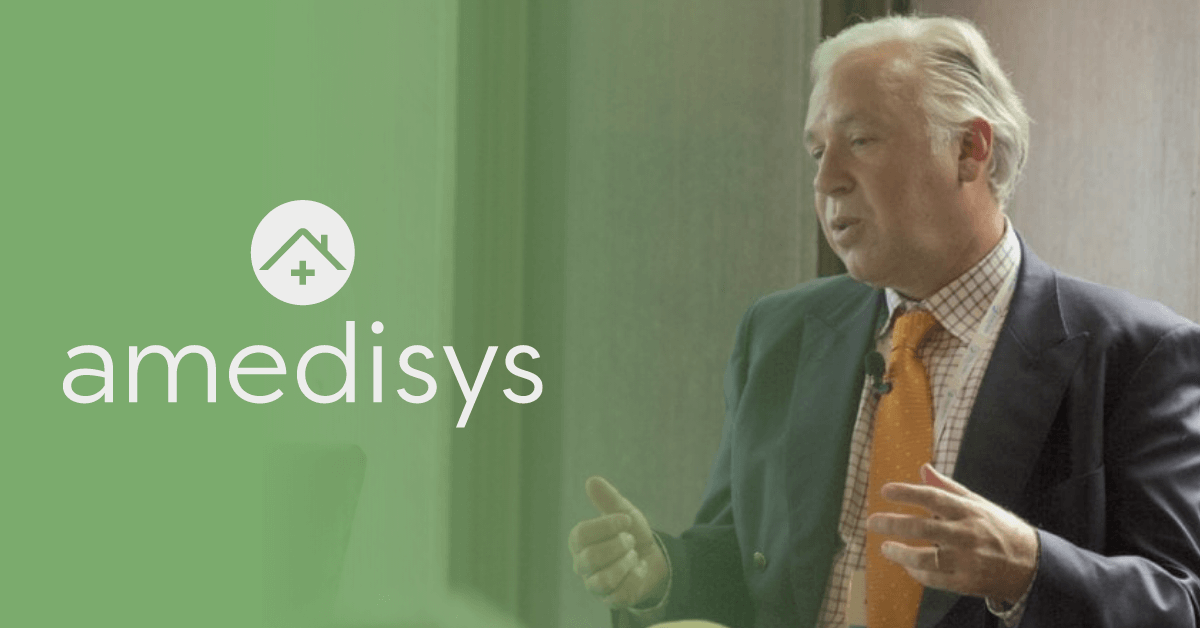 DO NOT MISS THIS INTERVIEW: Amedisys CEO Paul Kusserow
Having earned a bachelor's degree in English Literature, I've always enjoyed the following riddle:
Question: What is an English major good for?

Answer: Wait and see!
The beauty of a liberal arts education is that the reasoning and communication skills it develops are broadly applicable in all professions. 
In his role as Amedisys' Chairman and CEO, Paul Kusserow relies upon his rigorous training in theology (Wesleyan) and literature (Oxford) to guide his approach to strategy, management and corporate governance. After completing his Rhodes Scholarship thesis on T. S. Eliot's poetry (no small feat), Paul embarked on remarkable career journey that has included stints as Chief Strategy Officer at Tenet and Humana before becoming Amedisys' CEO in December 2014. 
I interviewed Paul on October 21st during for a keynote session at the Cain Brothers 2021 Healthcare Conference. Cain Brothers released the interview as a special episode of its House Calls podcast. You can listen to the interview here on our website or on the streaming services, and I strongly encourage you to do so. Where else will you hear literary and biblical references applied to healthcare market positioning and strategy?
Paul and I are old friends. We overlapped for a brief period at a boutique investment bank in the aftermath of the 2008 financial crisis. Paul was trying to raise a healthcare investment fund. I was trying to create a new type of healthcare investment banking practice based on deep industry expertise, transparency, execution excellence and content creation.
Paul spent significant time in the Middle East trying to raise capital for his fund. This necessitated drinking copious amounts of green tea, which he grew to love. For better or worse, he passed this habit on to me. 
Our initiatives had promise but were too early. Like many entrepreneurs before us, we took our lumps, learned some lessons and moved on to other ventures. When Paul took its helm, Amedisys was struggling. Its stock had fallen to $11 a share, and the company had just paid a large government fine. Amedisys needed new direction and energy. It received that in abundance.
Under Paul's leadership, Amedisys has become an industry leader in hospice and home care. The reconfigured company has experienced stratospheric increases in revenues, profits and market capitalization. Its August 2021 acquisition of Contessa makes Amedisys a major player in the dynamic hospital-at-home marketplace. Tapping the previously unrealized potential of Amedisys' large workforce has been the key ingredient fueling company growth.
During our interview, Paul discusses his academic and professional background, Amedisys' meteoric rise under his leadership, current industry dynamics and the evolving healthcare marketplace. He does this with grace, humanity, humor and penetrating insight. His is a tour-de-force performance that the 4sight Health audience won't want to miss.
Cain Brothers President Rob Fraiman introduces my interview with Paul. Like Paul and me, Rob benefited from a strong liberal arts education (history) that has served him well throughout his professional career. 
Under Rob's leadership, Cain Brothers has developed the type of healthcare investment banking platform I once envisioned: broad coverage of for-profit and non-profit sectors; deeply expert; content rich and fully engaged in healthcare's dynamic and disruptive marketplace.
Don't delay another second. Listen to this unique and riveting interview on the 4sight Health website here, after which, you'll be able to identify the writer who observed, "The mass of men lead lives of quiet desperation." Paul Kusserow is not among them.
Enjoy! 
Listen to the interview on these streaming services: Apple Podcasts, Spotify, and Google Podcasts.