Doctors and the Laws of Supply and Demand – Burda on Healthcare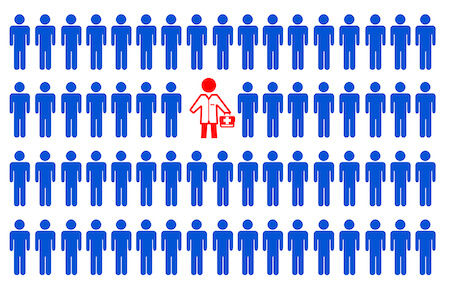 It's a great time to go to medical school and become a doctor. Ignore all the manufactured angst from organized medicine and opinion polls of aging physicians who say they wouldn't recommend that their favorite child go into medicine. If you believe the numbers, being a doctor should be a more lucrative profession than it is now.
To believe that, you also have to believe that healthcare is an industry just like any other industry, and that the economic forces that guide behaviors apply to companies and people working in healthcare just as much as they apply to companies and people working in other industries. I know I do.
What made me think of this—and remind me of how disappointed my parents were when I told them I wanted to become a journalist rather than a doctor—is the latest report on the physician shortage from the Association of American Medical Colleges.
In April, the AAMC released The Complexities of Physician Supply and Demand: Projections from 2017 to 2032. It's an 86-page economics lesson on all the different variables that will determine whether there's enough doctors in the U.S. to take care of us over the next 23 years.
The conclusion of the AAMC report is that we'll be down anywhere from 46,900 to 121,900 doctors by 2032 from the number we need to meet our demand for their medical services. How the AAMC came up with its numbers and what things impact the shortage and to what degree is the more fascinating story.
Physician supply and demand trends
The report identified three drivers of a dramatic increase in the demand for physician services. In order of impact, they are:
The population is aging, and an aging population will need more medical care from doctors as it gets older and sicker.
Population health. The need to prevent and manage chronic diseases as the population ages will rise along with the need for doctors to provide prevention and wellness services.
Expanded access. As more patients of any age obtain health insurance benefits through new public or private coverage mechanisms, they will utilize more services from physicians.
The three drivers of the increased demand for physician services really shouldn't come as a surprise to anyone who follows this stuff. It's common sense. But, the drivers—or, more appropriately the brakes—on the supply of physicians may come as a surprise. In order of impact, they are:
The report said 42 percent of the current physician workforce is 55 years of age or older. More doctors will be hanging up their stethoscopes than putting them on.
Work hours. Physicians are putting in fewer patient-care work hours per week. So much so that the cumulative effect will equal nearly 21,000 physicians by 2032.
"The strongest drivers of physician supply are work hours and retirement patterns," the report said.
All told, the U.S. will need 132,400 more physicians in 2032 than the 820,700 it had in 2017, according to the report. The U.S. will fall short of that need by 46,900 to 121,900, depending on how the demand and supply trends play out over the next 23 years.
Now, let's throw a few more things into the career-counseling discussion.
Owners versus employees
Earlier this month, the American Medical Association released a 16-page report on physician practice settings in 2018.
In a press statement announcing the report, the AMA noted that 2018 was the first year in which the percentage of practicing doctors who were employees was higher than the percentage of practicing doctors who owned their own practices. I guess we're all supposed to faint at that affront to the medical profession. Some 47.4 percent of physicians were employees, and 45.9 percent were owners. The rest—6.7 percent—were independent contractors.
The AMA based its report on a survey of a 3,500 physicians. The AMA conducted similar surveys of physicians in 2012, 2014 and 2016.
But, the more interesting number to me is the fact that 54 percent of the physicians still worked in a physician-owned practice in 2018 either as owners (41 percent), employees (10 percent) or independent contractors (3 percent). That's about the same as in 2016 and 2014, per the AMA's past reports. Most doctors continue to work for themselves or for other doctors, not hospitals or health systems as some would like you to believe.
Still, the fact that more are employees with presumably set hours could explain the work-hours trend noted in the AAMC's report as a factor slowing the growth in the supply of physicians.
Spending on physician services
Time to talk money.
The Centers for Medicare and Medicaid Services estimated that national health expenditures on physician and clinical services this year will be about $767.6 billion. That number will balloon by nearly 53 percent to $1,172.0 billion by 2027. The average annual increase in spending on physician and other clinical services will be more than 5.4 percent over the next eight years.
"Contributing to the overall trend is faster projected growth in prices for physician and clinical services due to anticipated rising wage growth related to increased demand from the aging population," the CMS said in explaining its projections.
In English, doctors will be able to charge more for their services because of the increased demand.
And who's going to be around to charge more for their services? Not many more doctors than right now, according to the latest medical school enrollment figures from the AAMC.
The AAMC said 91,391 students were enrolled in U.S. medical schools during the 2018-2019 school year. That's up less than 2 percent from the 2017-2018 school year when 89,789 aspiring doctors were hitting the books and going to class (in person or online).
So let's add everything up. Aging population plus population health plus expanded insurance coverage plus doctors retiring plus doctors working fewer hours plus more spending on doctors plus flat medical school enrollment equals a great future if you want to be a doctor and make lots of money.
Please don't send this to my mom or else she'll start crying again at my career choice.
Author
David Burda is a columnist for 4sight Health and news editor of 4sight Friday, our weekly newsletter. Follow Burda on Twitter @DavidRBurda and on LinkedIn. Read his bio here.