January 23, 2019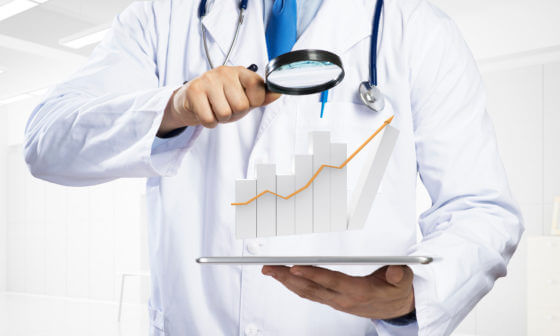 Everyone Knows What's Going to Happen in Healthcare in 2019. Do You? – Burda on Healthcare
What's going to happen in healthcare this year is anyone's guess. Not really. What's going to happen in healthcare this year is everyone's guess.
Like most of you, from mid-December and through mid-January, my inbox and social channels dinged and pinged non-stop with bold predictions for the $3.9 trillion healthcare industry in 2019. I decided to stash each set of predictions in an email folder, and at last count, I had predictions from more than 100 industry experts, pundits, vendors, analysts, thought leaders, journalists, publications and think tanks.
So, here, in my unscientific opinion, is the Top 21 based on the credibility of the source, plausibility of the predictions, freshness of ideas and general contribution to this year's discussion over the direction of healthcare. I tried to include forecasts across the entire spectrum of healthcare delivery and finance, not just digital health or artificial intelligence, which dominated the predictions.
Also, to make the Top 21, access to the predictions had to be free. As in, you don't have to pay someone for their thoughts. Unlike Forrester, which will share its 2019 predictions for meager $499.
My Top 21 are in alphabetical order by source. I did not rank the Top 21. I named the report or article. I linked to the original document if you want to read the whole thing. And I quoted or summarized the big prediction, idea or take away from the source. I took the liberty of cleaning up some of the grammar and spelling in direct quotes because that seemed like the right thing to do.
So here goes:
 American Hospital Association
2019 Environmental Scan: Implications for the coming year and beyond
Prediction: Seventy-one percent of hospital and health system CEOs said that it's "very likely, "somewhat likely," or "already happening" in that their organizations will have a strategic initiative in place within the next five years to increase the generational diversity of their governing boards.
 Avalere Health
2019 Healthcare Industry Outlook
Prediction: "In 2019, the federal government will dial up the pressure on healthcare providers to deliver results in alternative payment models (APMs) by accelerating risk and potentially implementing mandatory demonstrations. Medicare APMs will take on design elements that will enable CMS to determine earlier in a demonstration if a model can produce savings and improve quality."
Center for Connected Medicine and the Health Management Academy
Top of Mind for Top Health Systems 2019: Insights from health systems on IT priorities for the year ahead
Prediction: "As health system leaders look ahead to the challenges and opportunities of the coming year, they are increasing their spending to defend against cyberattacks, expressing optimism about higher reimbursement for telehealth services, and feeling anxious about Apple, Amazon, and Google entering the health care space."
Deloitte
"Life sciences outlook for 2019: Moving from the hypothetical into a new reality"
Prediction: "We expect more non-traditional acquisitions and partnerships in the new year to drive innovation and patient-focused agendas. For example, we could see more partnerships between life sciences companies and patient advocacy organizations, informatics companies, or technology firms to improve the design and delivery of therapies. Stronger partnerships between life sciences firms and their physician and hospital customers can be formed around the patient."
 Fortune
"10 Health Care Predictions for 2019 From a Pair of Venture Gurus"
Prediction: "We believe health systems have heard the cries from doctors about terrible user experience and administrative burden of electronic health records. Since health systems cannot afford to replace doctors who make credible threats of retiring or resigning, they will make investments to improve morale. We are bullish that EHRs will move doctor user experience up the product roadmap priority list and that innovations like voice interfaces and machines learning will help a great deal."
6.  Frost & Sullivan
"2019 Healthcare Predictions Unleashed – Growth Opportunities, Technology, and Trends"
Prediction: "We believe 5-10 percent of health insurance plans will be linked to lifestyle and health data-driven interactive policies in some form by the end of 2019. Our research suggests that interactive policies will continue to gain popularity globally as they enable insurance companies to leverage individual data and then use it to personalize premiums and discounts/rewards."
 Global Healthcare
 "Top 10 healthcare innovations for 2019"
Prediction: "Non-emergency health transportation remains a key issue worldwide, preventing patients from getting to or from a doctor's appointment. Twenty-five percent of lower-income patients have missed or rescheduled appointments due to lack of transportation, costing U.S. health systems up to $150 billion each year. Transportation companies such as Lyft and Uber have therefore entered the market by partnering with state governments to reduce these costs and deliver personalized patient care."
Health IT Analytics
"UX, AI, and Amazon: Top 5 Healthcare Predictions for 2019"
Prediction: "Organizations will need to start to decide if they want to be blockchain leaders or followers, each of which comes with its own challenges and opportunities. Earlier adopters will be charged with developing the best practices and governance techniques required to make blockchain work in the healthcare environment – tasks which have not traditionally been among the industry's strengths. However, those taking a wait-and-see approach may find themselves outflanked by more proactive organizations if they don't move quickly to get involved in trust-based data exchange communities."
Healthcare Executive Group
"Healthcare Executives Rank the Top 10 (Challenges, Issues and Opportunities) For 2019"
Prediction: "1. Leveraging data (especially clinical) to manage health and drive individual, provider and payer decisions."
 HealthLeaders
"3 Predictions for Virtual Care in 2019"
Prediction: "The leading prediction for the coming year is that changes in reimbursement will spur growth in virtual care. The seeds were planted in 2018 with passage of the CHRONIC Care Act and new billing codes from the Centers for Medicare & Medicaid Services (CMS). Opportunities also will be created by Medicare Advantage plans and new penalties for readmissions from skilled nursing facilities. One sticking point continues to be parity legislation from some state legislatures."
 Home Health Care News
"The Top Trends in Home Health Care for 2019"
Prediction: "Other countries have more mature hospital-at-home programs than the United States The U.S. will begin to make up the ground in 2019. One reason: CMS will unveil a new innovative payment model for hospital-at-home programs. The agency has already spent the past few years evaluating at least two possible concepts."
 MedCity News
"Five innovation trends that will impact the healthcare industry in 2019"
Prediction: "In 2019, expect precision medicine to become more common outside of oncology. Already this year, a new study from Northwestern University brought precision medicine to rheumatoid arthritis by using genetic profiling of joint tissue to see which drugs would work for which patients. Studies into growing replacement tissues using a patient's own stem cells are presenting completely new ways to tailor treatments. Researchers into multiple sclerosis are also now able to discover prognostic biomarkers to track and predict the course of an individual's disease and predict which treatment will work best."
Morning Consult
"Top 5 Health Policy Predictions for 2019"
Prediction: "After years of being just within reach, digital therapeutics and e-health initiatives stand to finally emerge in in the industry and transform care delivery next year. The Food and Drug Administration has already approved some digital therapies, such as an inhaler with embedded digital sensor technology that tracks medication adherence. The FDA's Digital Health Software Precertification Program—launched in July 2017 and designed to expedite the approval process for digital health products—is expected to begin greenlighting software-based medical devices. The sector will face questions about security, privacy and regulatory oversight, though the FDA has already begun updating its regulatory framework in preparation."
 Moody's Investor Service
"US NFP, public healthcare outlook to remain negative on flat to slightly down operating cash flow "
Prediction: "Facing operating challenges and new competition, hospitals will attempt to differentiate themselves in a changing marketplace. This will be particularly true in markets where there is a dominant commercial insurer and/or multiple hospitals. Each hospital will need to demonstrate why it is indispensable to the insurer (e.g., its physician network or services, quality of care or costs) and why it should be included in a network."
 National Business Group on Health
Prediction: "Employers are rethinking consumerism. Today's consumer places a premium on simplicity, convenience, and personalization. Navigators, concierge services and virtual resources are expanding to help consumers take some of the complexity out of accessing care and to better anticipate and address their unique needs."
 Navigant
Prediction: "Health systems and physicians remain frustrated post-practice acquisition. As private equity's physician acquisition appetite increases, health systems are at risk of being left behind. Health systems need to make some tough choices to avoid getting left behind, starting with managing physician practices instead of hosting them."
 Providence St. Joseph Health
"Providence St. Joseph Health Predicts 2019 Will Be 'The Year Of Coalitions In Health Care'"
Prediction: "Diverse coalitions will form to tackle the toughest issues in health care. Watch more nontraditional coalitions among health care organizations and others lift off in 2019 as providers, in particular, assert stronger leadership in areas such as big data, digital innovation and advocacy."
PwC
"Top health industry issues of 2019: The New Health Economy comes of age"
Prediction: "In 2019, healthcare companies new and old will identify which employees—from the back office to the front lines and all the way up to the C-suite—have to be upskilled or reskilled to get the most out of new and impending investments in technologies such as artificial intelligence and robotic process automation."
 Seeking Alpha
"Healthcare REITs: Hope For 2019"
Prediction: "Healthcare REIT fundamentals remain weak, but 2018 appears to have been the bottom of a half-decade long stretch of deteriorating operating performance. Supply growth is peaking as demand begins to accelerate. After years of stagnant demand growth, this demographic boom could not come soon enough. Investors are hoping to see signs of an upward inflection in fundamentals by mid-2019. Skilled nursing and hospital REITs remain troubled by operator struggles and policy uncertainty, issues unlikely to abate in 2019. Medical office and research-focused REITs are the safe havens of the sector."
 Skilled Nursing News
"Looking Ahead to the Top Skilled Nursing Trends of 2019"
Prediction: "SNFs (skilled nursing facilities) cannot afford to wait for a wave of graying baby boomers to save them from occupancy levels that fell almost continuously throughout 2018. Even as demand for more specialized services rises, SNFs are facing intense pressure from payers and providers to reduce lengths of stay, which means patient turnover will keep increasing. As a result, more providers will start to add services other than skilled nursing."
 Society for Human Resource Management
"6 Big Benefits Trends for 2019"
Prediction: "Large employers should soon be able to offer health reimbursement arrangements (HRAs) that allow employees to purchase individual coverage for themselves instead of receiving employer-sponsored group coverage. "
I'm optimistic about 2019 because, as these 21 sets of predictions can attest, I'll have more than enough things to write about over the next year. How many of the predictions will come true is anyone's guess. I think a lot of them will happen. I hope that enough of them will happen that we'll begin to see real signs of an ownership change in healthcare from incumbent stakeholders to patients.