How Commoditizing Colonoscopies Will Drive New Business
Colonoscopies are the American College of Gastroenterology's preferred strategy to detect colon cancer. Ten million Americans annually undergo colonoscopies at a cost approximating $10 billion. Although colonoscopy prices vary, the outcomes remain the same. Instead of patients receiving the best care, health systems are receiving the highest payouts.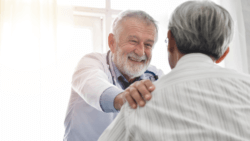 THE PROBLEM
Reflective of the entire landscape of healthcare, the main goal of colonoscopies is revenue maximization instead of value optimization for patients. Routine colonoscopies have become a commodity and healthcare providers should deliver patients the right care, at the right time, for the right price.
Before 2000, colonoscopies were rare. After newscaster Katie Couric's husband died from colon cancer, she became an advocate for colorectal screening and had a live colonoscopy on the Today Show. Heavy lobbying followed the public's advocacy and the American College of Gastroenterology's recommendation. This led Congress to direct Medicare to pay for regular colonoscopy screenings. Commercial insurers followed Medicare's lead and colonoscopies became standard preventative care to detect colon cancer.
According to the 2012 report by the International Federation of Health Plans, the average U.S. colonoscopy price was $1,195. The 25th percentile price was $536 and 95th percentile price was $2,617. Higher prices incorporate higher facility costs, but do not improve outcomes. It costs too much for patients to receive a standard colonoscopy within a timely manner.
During my own 2015 annual check-up, I shopped at three different healthcare providers before receiving a colonoscopy at an affordable price. Dominant University Hospital (DUH) could not work with my network provider and Awesome Community Health Enterprise (ACHE) scheduled me for an additional evaluation, even though I already had one and declined.
I finally found Dr. Avis Goodheart, a local gastroenterologist with three five-star ratings on Yelp. These reviews did not give me confidence, but I called her office anyway. She saw me on a Saturday, gave me same-day results and followed up on my recovery. It was like night and day service compared to the hospitals.
THE SOLUTION
Imagine a group of consumer-oriented GI doctors delivering personalized colonoscopy experiences to fit customers' needs and schedules. Imagine data companies crunching medical records to align customers with prospective doctors, like ZocDoc. Imagine customers receiving better, cheaper and more convenient colonoscopies.
Colonoscopies have become routine, predictable and standardized. To identify care delivery models based on their duration and uncertainty, take a look at the Care Delivery Matrix: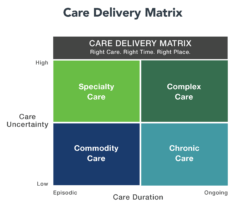 One size business model will not fit each of these quadrants. Like colonoscopies, most acute care treatments are subject to commoditization. As services commoditize, the speed, cost and convenience of treatments should improve for customers. Organizations like DUH and ACHE that cannot schedule convenient and affordable procedures will lose against offices like Dr. Goodheart. Organizations that adapt to increase value to the consumer, instead of maximizing revenue, will win.
By 2020, Dr. Goodheart's company Excel Colon Care will offer $400 colonoscopies seven days a week at Walmart stores nationwide. By commoditizing colonoscopies, Dr. Goodheart is able to reach more consumers to grow her business by providing customers the right care, at the right time, for the right price. For more information on this topic, please read the full Market Corner Commentary here.