Strategic Advisory Engagements
Advisory Projects
4sight Health conducts advisory projects that drive organizational transformation.
Do you need an outside leader, moderator or advisor to guide you through a c-suite or business development challenge?
Do you need expertise in healthcare, wide industry knowledge or investment experience?
Do you want to work with a boutique, specialized healthcare advisory instead of a large consulting firm?
Do you have a successful playbook you want to expand into new markets, but you're not sure if you should do it yourself or partner with private equity?
We guide discussions between governing board, c-suite, and executive leaders and their clients. We facilitate analysis and decisions about business models, organizational direction or partnerships.
Our strategic advisory and consulting services provide innovative solutions for organizations that want to thrive in our changing industry.
Other Services
Board education that builds robust and visionary governance.
Leadership development to create high-performing executive teams
Capital formation to fund innovation and growth.
Don't make the costly mistake of implementing the wrong advice in our changing industry. Cut your learning curve in half by working with our experienced team and using our cutting-edge solutions.
Trademarked Advisory Services Addressing Key Industry Trends
I. Platforming Healthcare™ as a Service
Adapting to transformative and disruptive change is particularly challenging for health companies. Current business models and practices conform to artificial supply-driven economics, which has created a new world. Costs, outcomes and consumer satisfaction are now more important than revenue cycle.
Delivering high-quality outcomes and high-value services will differentiate winning companies. This requires an Amazon-like "platforming" approach to business operations.
4sight Health works with your leadership team and industry partners to determine how we can develop internal and external strategic plans for your business.
Our clients include large provider organizations, physician practices, external partners like post-acute, home healthcare, palliative care, social service providers, business operations providers and payers.
Key elements of analysis and deliverables include:
What services you should own, buy or partner with to meet strategic and revenue objectives.
Identifying and evaluating potential partners and purchase opportunities that fit your platforming plan.
Internal leadership enrollment and employee engagement programs to communicate the purpose and steps to move toward platforming.
Options for related financing and budget implications of recommended strategies.
II. Liberated Data Saves Lives™
As an industry, healthcare lags behind other industries in understanding and applying big data's performance and insight-generating capabilities. Healthcare's historic tendency to silo data within closed systems prevents effective access and sharing. Such hoarding stifles knowledge flows, blocks care coordination, and impedes innovation. Data must flow freely to generate breakthrough insights.
The best organizations develop IT systems and workflows that combine high-touch attention with analytic power to improve protocols, enhance insights and boost performance. Liberating data can improve:
Operational processes to reduce length of hospital stays.
Emergency department flow.
Claims data processing.
AI and ML for predictive analytics to better manage the health of specific populations.
For data and technology providers, 4sight Health can direct the marketing and sales strategy to ensure companies are addressing provider needs and pain points versus selling shiny technology.
Clients include large provider organizations, physician practices, technology businesses, intelligent operations providers, technology startups and mid-sized companies.
Key elements of analysis and deliverables include:
Finding blocked data in your organization, where it's hurting the business, where operational and cultural issues slow implementation and applications.
Identifying and evaluating potential partners and purchase opportunities that fit your platforming plan.
Internal leadership enrollment and employee engagement programs to communicate the purpose and steps to move toward connecting data.
III. Leadership Is Persuasion™
The System will not relent without a fight, but its days are numbered. Healthcare revolutionaries win by delivering customers the services they want with great service and transparent, competitive prices. Powerful incumbents will adapt or disappear. New companies will emerge, change lives, and thrive.
Leading companies will need to enhance customer satisfaction by improving employee satisfaction. Happier, more fulfilled and satisfied healthcare providers will produce better patient experiences. We will need leaders to:
Lead through enrollment vs. top down commands
Think, strategize and create innovative solutions
Prioritize employee enrollment so individuals understand how they contribute.
We will need leaders to persuade. When the dust settles, revolutionized American healthcare will serve the people, not the System.
Key elements of analysis and deliverables include:
Board education and workshop facilitation that builds robust and visionary leadership teams.
Leadership analysis to develop executive teams who can lead through persuasion and excel through great change.
Identifying potential candidates that fit culture and style of leadership for key roles.
New CEO advising for internal enrollment and external market and client visibility.
Advisory Services for Other Key Market Issues
Consumerism
Economics
Innovation
Outcomes
Policy
System Dynamics
Here's How To
Initiate Our Consulting Services
Step 1
Click the button below to apply for a complimentary 20-minute consultation.
Step 2
We will reach out to qualified clients to setup an initial conversation.
Step 3
If we are a good fit to work together, we will create a customized solution to serve your needs.
Helping organizations become industry leaders
Our strategic advisory programs help organizations become industry leaders. We are paving the way for innovative companies to execute strategies, like "Platforming Healthcare." Read David Johnson's perspective on Healthcare's Transformative Digital Bazaar: Exchanges, Platforms & Hybrids in his recent commentary. Discover more about platforming from a health system executive in this NEJM Catalyst Article written by David W. Johnson, MPP and Amy Compton-Phillips, MD here.
Let our team position your company to lead the healthcare revolution. Are you ready to join?
Subscribe to 4sight Friday
Join 10k+ healthcare executives reading our weekly newsletter.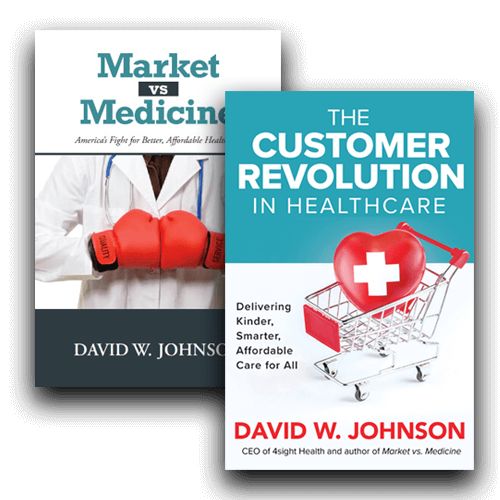 Revolutionary Times Call
for Revolutionary Ideas
Delivering Kinder, Smarter, Affordable Care for All