NEJM Catalyst Article for September 19, 2019
David W. Johnson, MPP
Amy Compton-Phillips, MD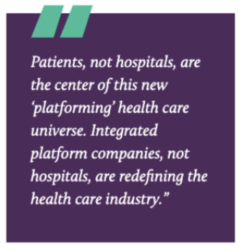 Hospitals used to be at the center of the health care universe. Today, new business models that deliver vertically integrated care rarely own hospitals (consider Optum's approach). They're building efficient, convenient, and user-friendly platforms to serve consumers on their terms. Patients, not hospitals, are the center of this new "platforming" health care universe. Integrated platform companies, not hospitals, are redefining the health care industry.
Hospitals largely operated as independent entities until the late 1990s when dozens of new health systems combined hospital ownership and operations within single corporations. This consolidation trend has accelerated during the last 5 years. Read the original article on NEJM Catalyst here.