3 Essential Values Home Care Needs to Capture Greater Market Share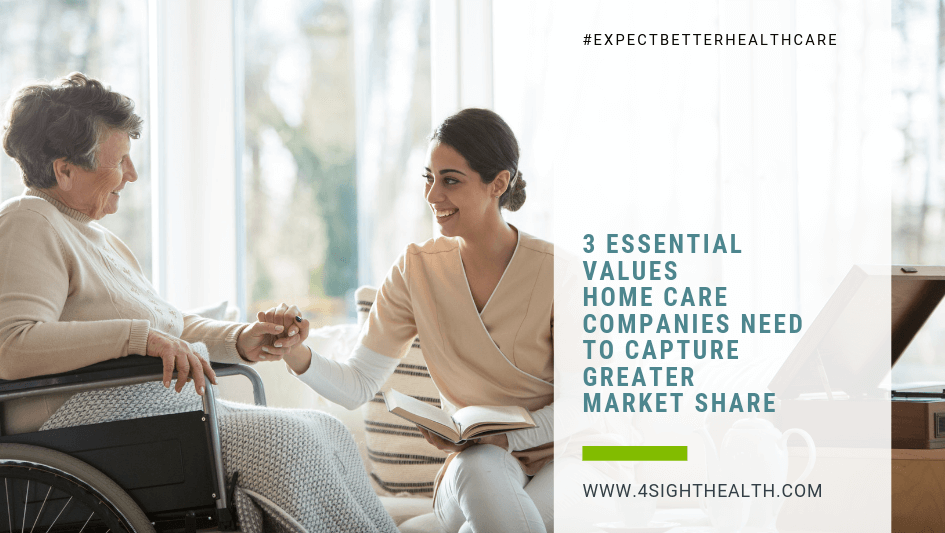 The home healthcare sector is dominated by "mom and pops" in a highly-fragmented and under-performing market. Fraud is rampant and customer care is inconsistent. The Department of Health and Human Services is investigating over 500 agencies and 4,500 physicians for potential fraudulent transactions. Our nation's sickest patients are suffering from high costs and poor outcomes.
Home health is one of the fastest growing segments in healthcare. The top ten providers comprise 20% of the market. Hospice and home health M&A trends highlight the potential for consolidation of the remaining 80% of the market for efficient companies to capture. Innovative companies, like AccentCare, are disrupting the home care market by offering value-based payment services.
Integration of post-acute care into coordinated care delivery is critical for the long-term success of patients. Instead of patients falling into the care of those who process fraudulent claims and provide poor care, patients should experience efficient care with improved technology and reduced rates.
Health systems and providers must come into closer alignment to succeed in post-reform healthcare. Collaboration and coordination will lead to successful established partnerships and joint ventures to better serve patients. The shift has already begun and those companies who do not transition will lose to innovative new technologies and ventures.
Consider AccentCare in Dallas, TX which provides home care, hospice and personal care services. Stephan Rodgers became their CEO in 2012 after a successful tenure at OptumHealth Collaborative Care. Rodgers said, "We saw home care as a business in need of fundamental reform. Yet, we believe it has the potential to be an integral part of overall care delivery because its principal job is to take care of the sickest people in the country." Now, AccentCare produces over $500 million in revenue across 140+ locations and serves almost 90,000 patients.
AccentCare invests heavily into technological innovation and strategic operating platforms to enhance experiences for partners and customers. They have a competitive advantage because of these essential values:
Scale. To reform home care, AccentCare needs to be accessible in various networks and grow.
Partnerships. Home care is not apart of the care continuum, so they must insert themselves into it through strategic partnerships with health systems and referrals from physicians.
Values. Executing value-based payment models with leading technological innovations positions them to increase revenue and provide quality care. Everyone wins.
Culture. AccentCare encourages empathy, learning and customer-focus. CEO Rodgers states their culture is a contributing factor to their high star ratings and an indicator of future performance.
There is an imminent earthquake healthcare. Traditional home care is a fault line waiting to erupt. To avoid an eruption, innovative companies are recognizing the inefficiencies by responding to new payment models, readmission penalties and greater quality transparency. Enlightened providers will attract payers to high-performing home health and hospice companies and arise with greater customer loyalty and market share.
For more information on this topic, please read the full Market Corner Commentary here.