July 22, 2019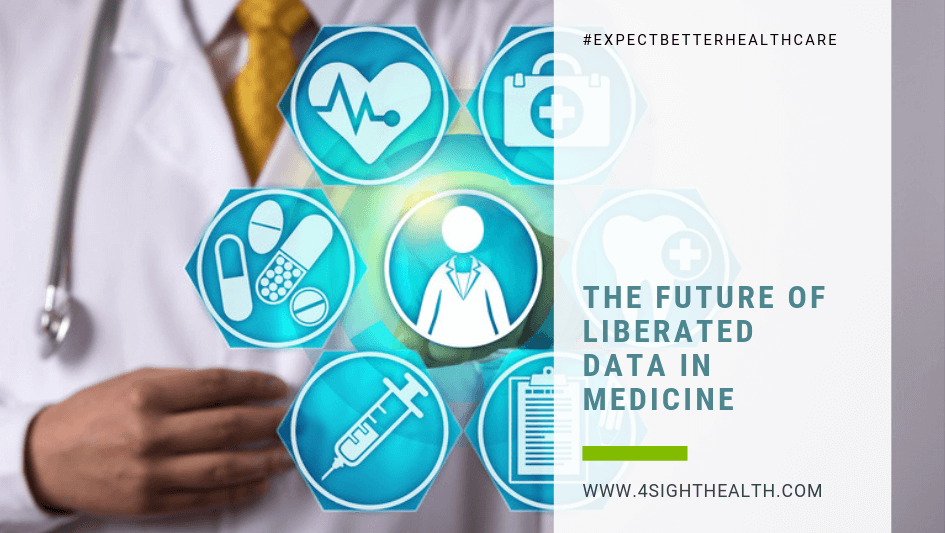 The Future of Liberated Data in Medicine
Digitization and globalization of medical knowledge will double every 73 days by 2020.[1] When a patient enters an exam room, they will likely encounter a "Dr. Know-it-All" or come prepared with "Dr. Google." Neither approach works well. Doctors try to keep patients happy by absorbing the overwhelming amount of medical information to stay current, which leads to burnout. Inadequate doctor-patient communications lead to distrust, poor results and misunderstandings of treatment.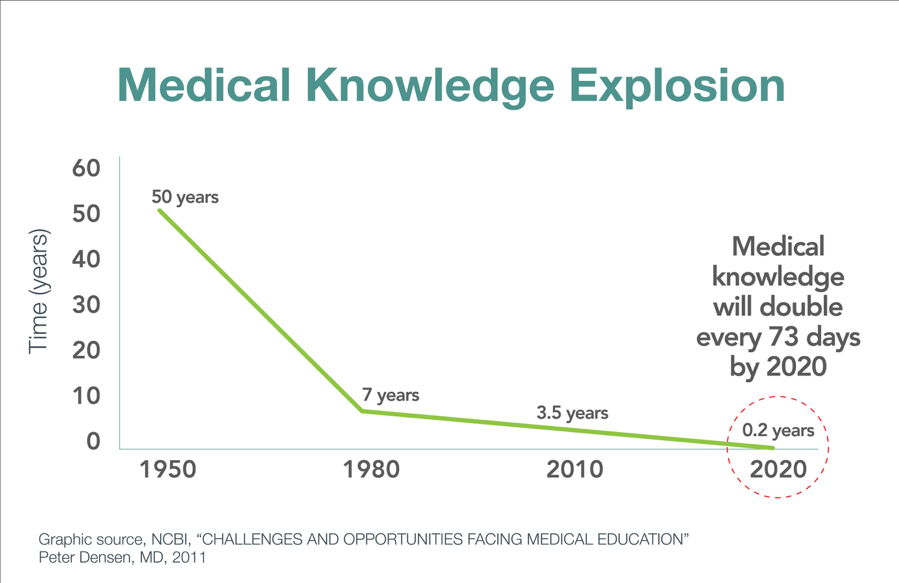 To improve the patient experience and provide superior health outcomes, doctors must rely on the assistance of artificial intelligence from machine-based diagnostic tools and guide patients in shared medical decision-making. This requires data to flow freely in knowledge networks that standardize, monitor and enhance care protocols. This will allow for quality time with patients, so doctors can provide the right care in the right way.
It's time to remove the barrier between patients and doctors and make healthcare compassionate again. Authors John Hegel III, John Seely Brown and Lang Davison published a seminal Harvard Business Review article titled "Abandon Stocks, Embrace Flows" that explains how knowledge is created and distributed in a digitized world.[2] Historically, industries and professionals would acquire "knowledge stocks" and rent their expertise (think: law firms, accounting firms and investment banks).
Today, the value of knowledge stocks diminishes because existing knowledge stocks depreciate quickly, renting expertise is easier and cheaper, product life cycles compress and intellectual property becomes less enforceable. Knowledge exchange must be collaborative, reciprocal and ongoing while accruing value in "knowledge flows." In this new knowledge economy, ongoing engagement, face-to-face encounters and collaboration is required to stay relevant.
Healthcare requires shared decision-making to optimize quality, efficiency and innovation. To transition healthcare from knowledge stocks to flows, data must be interoperable. As blood cannot flow through clogged arteries, data cannot flow through disconnected portals. Kaveh Safavi, the leader of Accenture's Global Health Practice leader, said: "Healthcare will increasingly tap digital technologies to empower human judgment, free-up clinician time and personalize care services to put control in the patients' hands." Imagine the strengthened doctor-patient relationships that will develop when doctors have time to provide healthcare with empathy and humanity (not with a stopwatch and a calculator).
A 2016 study by Frost & Sullivan projects healthcare's increasing expenditure on AI (up to $6.6 billion, a 10-fold increase) could improve healthcare outcomes by 30-40% while reducing costs up to 50%.[3] Allowing AI technologies to provide the "know what" content during a consultation will allow time for doctors to develop their "know how" while building trusting relationships with patients. Doctors supported by AI and virtual care tools will create a collaborative medical decision-making process healthcare needs to deliver superior health outcomes.
Three seismic shifts are occurring in healthcare which will lead to Americans living healthier, more productive, interconnected and happier lives. Digitization, consumerism and value-based payment models are disrupting the new knowledge-based paradigms. Liberated data flowing freely in networks will redefine healthcare delivery and opened knowledge exchange will proliferate. When outcomes matter, customers count and value rules, American healthcare's inefficiencies will wither and innovation will win. For more information on this topic, please read the full Market Corner Commentary here.
---
SOURCES
[1] https://www.ncbi.nlm.nih.gov/pmc/articles/PMC3116346/
[2] https://hbr.org/2009/01/abandon-stocks-embrace-flows.html
[3] http://www.frost.com/sublib/