The Strained Relationship Between Doctors and Patients – Burda on Healthcare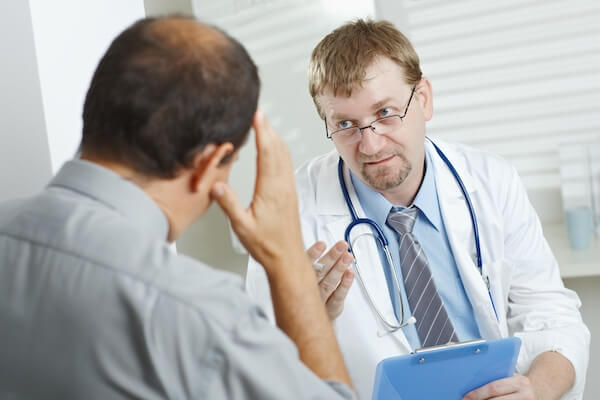 What if you walked into your doctor's office and there was a sign hanging in the waiting room that said: "Please do not confuse your Google search with my medical degree."
I know what I would think: "I wonder if they make one that says 'Please do not confuse your fake news with my journalism degree.'" I could hang it up when some of my relatives come over for Thanksgiving.
I digress. I think most patients who saw a sign like that in a doctor's waiting room would be offended. Yet, you can get that snarky sentiment on a coffee mug, a to-go cup, T-shirt, sweatshirt , laptop sleeve and poster in addition to a framed version. So there must be enough demand from those with medical degrees to justify the multi-platform sales approach.
The fact that the products exist at all is a sign that the doctor-patient relationship is under duress. You don't have to look much further than a recent spate of research to see the same thing.
Two new studies show how important primary care is to patients. Other research, though, shows that more patients are becoming their own doctors. Unless the two sides can iron out their differences and figure out a new way to work together, both are going to suffer.
In the first study, published Feb. 18 in JAMA Internal Medicine, researchers looked at the connection between the supply of primary-care physicians in a geographic market and the life expectancy of the people living there. The researchers found that for every 10 additional PCPs per 100,000 people in a market, the life expectancy of the people living there rose 51.5 days. For every 10 additional medical specialists per 100,000 people in a market, the life expectancy of the people living there rose 19.2 days. Hey, it's not much but it's something, especially if you're the person who got to stick around an extra 70.7 days.
In the second study, published Jan. 28 also in JAMA Internal Network, researchers looked at the connection between primary care and medical services. They compared the use of 25 high-value and 14-low value services from 2012 to 2014 by 18,000 patients who had a regular primary-care provider with the use of those same services by 44,000 patients without a regular primary-care provider. Patients with one were more likely receive high-value services like cancer screenings. Patients without one were more likely to receive low-value services like imaging tests for headaches.
Hold that thought. Now read this.
On Feb. 11, Rock Health, the San Francisco-based venture capital firm, released its fourth annual survey of consumers' digital health behaviors. Eighty percent of the 4,000 adults polled said they looked up health information online in 2018. That's up from 71 percent in 2015, the first year that Rock Health did its survey. Further, 64 percent said they read provider reviews online in 2018, up from 50 percent who said they checked out hospitals and doctors in 2015.
Eight days later, researchers published their study of health-related Google searches. That study appeared in the Feb. 20 BMJ Open. With the permission of the patients, the researchers looked at the Google searches of 103 patients who went to the emergency room of an academic medical center in 2016 and 2017. Within seven days of their ER visit, 53 percent of the patients searched for content directly related to their chief complaint that sent them to the ER.
So, on one hand, research shows the value of going to the doctor on a regular basis. Patients live longer, and it may because doctors steer them to the right medical services. On-the-other-hand, more patients are reading online doctor reviews, diagnosing themselves and deciding that they need to go to the ER.
Clearly, doctors and patients are not on the same webpage. You also can sense that growing tension for routine vaccines that immunize patients from diseases. Doctors implore their patients to get a seasonal flu shot or vaccinate their children, some patients ignore that medical advice, they or their children get sick, and their doctors are disgusted with them.
Consumerism, engagement and transparency are perhaps the three biggest forces reshaping healthcare today. That doesn't mean that doctors can do without patients or that patients can do without doctors. They need to work together to produce the best possible outcomes for both sides. They need to meet in the middle on consumerism, engagement and transparency for both to thrive in the healthcare system of the future.
"Knowing what patients look for before visiting an ED (emergency department) can help us anticipate their needs and direct them to the best sources of care," said Jeremy Asch, innovation strategist in the Penn Medicine Center for Digital Health and lead author of the Google search study, in a press release announcing the study's results. "And knowing what they search for afterward tells us how we can communicate better and help patients on their paths."
Better that than someone walking into their doctor's office wearing a T-shirt that says "Trust me, I'm a patient."
David Burda is a columnist for 4sight Health and news editor of 4sight Friday, our weekly newsletter. Follow Burda on Twitter @DavidRBurda and on LinkedIn. Read his bio here.