Why Fee-for-Service Medicine is Bad for Your Health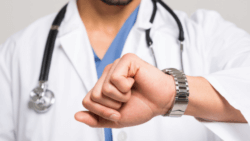 The later in the day that you see your doctor you're more likely to get the flu, get colon cancer and get hooked on prescription pain killers. OK, that's a causation exaggeration. But, it could happen based on another study that shows how the time of day can affect treatment decisions and patient outcomes.
The new study appeared in JAMA Network Open. Researchers from the public health schools at the universities of Minnesota and Harvard studied the link between patient appointment times and how often doctors prescribed opioids.
The study pool was 678,319 appointments by established (versus new) patients with the patients' 5,603 primary-care physicians in 2017. The patients suffered from back pain, joint pain, other musculoskeletal pain, migraines and other types of pain, and none had gotten an opioid prescription in the past year.
The researchers looked into variations in opioid prescribing rates by appointment time and by lateness of scheduled appointments. They compared those variations with how often the doctors recommended over-the-counter pain medication and physical therapy.
It turns out, doctors were more likely to prescribe opioids later in the day and the more appointments ran late. For example:
4 percent of patients who had one of the first three appointment times of the day received an opioid prescription compared with 5.3 percent who had one of the last three appointment times of the day. The rate climbed steadily as scheduled appointment times got later in the day.

4.5 percent of patients whose scheduled appointments ran up to nine minutes late received an opioid prescription compared with 5.2 percent whose appointments ran an hour or more late. Again, the rate climbed steadily along with the amount of time appointments ran late.
"Physicians were significantly more likely to prescribe opioids as the workday progressed and as appointments started later than scheduled," the researcher said.
That doesn't seem like much—4 percent versus 5.3 percent and 4.5 percent versus 5.2 percent. But, the researchers said the bumps in prescribing rates equaled an additional 4,459 opioid prescriptions.
Even more curious to me is the fact that the pattern didn't hold for OTC pain med recommendations and PT referrals. The rates for those two actions were almost the same for early and late appointments and no matter long a scheduled appointment ran late.
The researchers suggested that "physical or cognitive fatigue" at the end of a busy day or from running behind makes it more challenging for physicians to make decisions that require more thought and effort. It's the same reason busy parents order pizza instead of making a healthier meal from scratch for their hungry children who want dinner now. 
The researchers' findings add to the body of evidence that suggests time—or the lack of it—influences physicians' behavior and, as a result, health outcomes for patients. 
In "What Fish and Colonoscopies Have in Common," we wrote about a study that found that physicians were less likely to order a breast or colon cancer screening for patients who had later appointment times.
In "The Early Patient Gets the Flu Shot," we wrote about a study that found that patients with later appointment times were less likely to get a flu shot as recommended by their doctors. 
What this really is about, of course, is fee-for-service medicine. Health plans pay doctors more when the doctors do more. More patient visits, more revenue. The problem is, the more doctors do, the less likely they'll do the right things for some patients who, through no fault of their own, see their doctors later in the day when their doctors are tired and grouchy. How many patients got sick or died because of it? 
These studies are showing a clear link between FFS, poor health outcomes and higher costs. That's why transitioning to value-based care models and value-based reimbursement schemes is so important.  Pay doctors to keep us healthy. Please.