What Businesses Say They're Doing About Their Employees' Mental Health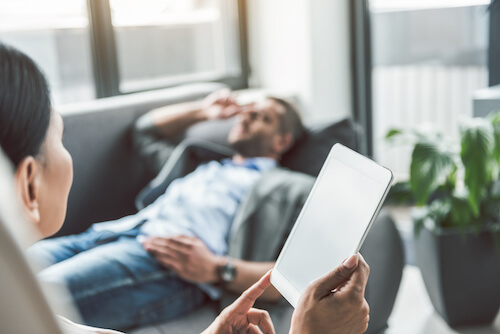 The National Institute of Mental Health says 46.6 million adults suffered from some form of mental illness in 2017. Of those, 57.4 percent didn't receive any mental health treatment for their condition. You can bet that some of that 57.4 percent work across the aisle, on your floor or in your building.
That's why the nation's employers are in a great position to do something about the behavioral health crisis in the U.S. (Behavioral health includes both mental health and substance abuse problems.)
And, according to some recent reports and surveys, employers say they are doing something about it.
Why all the attention? Time and money, and time is money, so it's money and money.
A recent report from the Integrated Benefits Institute estimated that lost employee productivity due to illness costs U.S. employers $530 billion per year. That figure includes sick days, short-term disability, long-term disability, medical leave and impaired performance.
A separate report from the Integrated Benefits Institute said 9 percent of long-term disability claims and 7 percent of short-term disability claims filed from 2011 through 2017 by employees were for mental or behavioral health conditions, the most common of which were diagnosed depression or other mood disorders. The average length of time that an employee was out on short-term disability leave for depression or another mood disorder was 81 days.
In short, behavioral health issues are costing employers more money, so employers are vowing to spend more money to minimize the problem and the hit to their businesses.
Exacerbating both sides of the above equation is the fact that six of the top 10 medical conditions having an adverse effect on the health of millennials are behavioral health conditions, according to an analysis by the Blue Cross Blue Shield Association. We commented on that analysis in a recent blog post, "Why Millennials May Be Pushing Us Off a Healthcare Cliff" on 4sighthealth.com.
With all the talk over Medicare for All proposals and the future of employer-sponsored health insurance, behavioral health is one area where companies can lead and demonstrate how they can use their health plans to improve the mental health of the nation's workforce. Let's hope they all follow through on their survey responses.
Author
David Burda is a columnist for 4sight Health and news editor of 4sight Friday, our weekly newsletter. Follow Burda on Twitter @DavidRBurda and on LinkedIn. Read his bio here.